ASHLAND, Ky. — Amy Compston was anything but inspiring for most of her adult life.
She became a drug and alcohol addict early in her teenage years and seemed destined for a life of dependency on substances.
Compston, who turned 30 in September, spent 14 years of her life trying to find joy and happiness from drugs and alcohol and "whatever I could get my hands on," she said.
She was a slave to substance abuse and experimented it all – crystal meth, cocaine, heroin, ecstacy, and acid.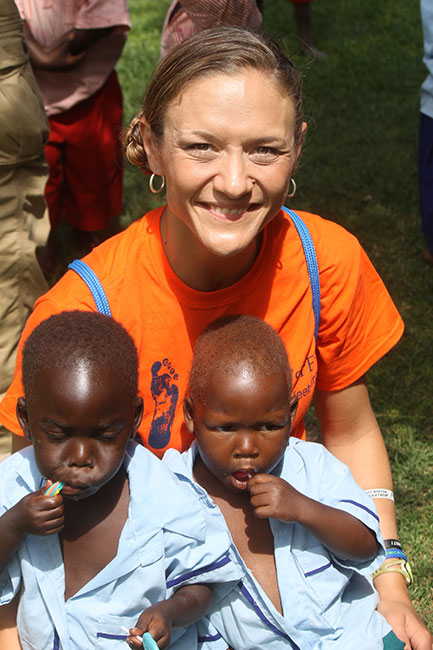 "You name it, I tried it," she said. "But no matter what I took, no matter how high I got, it wasn't enough. I wasn't happy."
That is, until 2012, when she surrendered her life fully to Jesus Christ.
"I've never been happier in my life," she said. "I'm a changed person."
Compston is a marathon runner who is using her gift of running for God. She founded a non-profit organization called Amy For Africa whose goal is to fundraise for missions in Uganda.
Through the end of 2016, Amy For Africa has raised more than $200,000 and helped place six nursery schools in the Moyo region of Uganda.
She says the last four years of her life has been, in a word, amazing.
"It's like night and day," she said of her life then and now. "I was looking to the world for happiness and satisfaction and you're not going to find it there. You find it in only once place and that's Jesus Christ. I understand that now."
As her life has been transformed spiritually, so have many around her.
Compston has spoken at nearly 70 churches, civic clubs, recovery homes, jails and even prison through the Amy For Africa mission, sharing her story of overcoming the abuse of drugs and alcohol. Her story of being freed from a prison of substance has resonated with many in the area where she lives in northeastern Kentucky. It even spawned a book, Grace Runner, that chronicles her drug-filled life and the beginning of Amy For Africa.
Some have been inspired to draw closer to Christianity through her inspirational words and others have used her as an example to a loved one or relative on how life can be different.
Ted Miller, who has heard her speak on numerous occasions, said: "As far as I'm concerned, she's contagious as far as enthusiasm. It's a God-given gift she has to explain herself in such a way that she says the right thing at the right time."
Besides her own story of recovery, she emotionally shares about the great needs in poverty-stricken Moyo, which she has visited three times and seen with her own eyes how the Amy For Africa organization was making a difference.
When AFA started in May of 2013, there were two Penne Paris Schools in Moyo representing about 200 children. Now, because of the funds given, there are six Penne Paris Schools with 1,000 students sponsored by the local organization.
Medical clinics and a hospital have also been stocked with supplies through AFA and money is also given to help ran an orphanage that has more than 80 children.
Compston and her husband, Chris, have four children and both are fulltime nurses at King's Daughters Medical Center. But they both make time for running.
Amy has competed in six world marathons, including the last four Boston Marathons. In 2014 she ran eight marathons in eight months, ending with a top 10 percent of all runners and top 4 percent of females in the New York City Marathon. Her husband ran in six marathons from May to October 2014, including the Chicago Marathon, where they both competed.
In 2015, she and Chris ran in the 94-mile West Virginia Trilogy, a three-day event of extreme trail running. Amy also completed a 50-mile ultra marathon in 2013 during the first year of AFA.
Meanwhile, she has continued speaking almost weekly through the AFA organization that bears her name.
"I'm nothing special," she said. "But I am a child of the one true king. Anything I do on this earth can't compare for what he did for me. He died on a cross even though he knew 14 years of my life was going to be nothing but nastiness, that I would lead people away from him, that I would be of no service to him. But he still died for me. Praise the Lord, what a savior!"