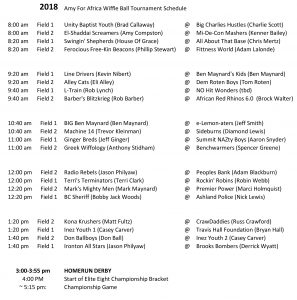 ASHLAND, Ky. – Bigger and better.
Those two words sum up the sixth annual Amy For Africa Wiffleball Tournament scheduled for Saturday, Aug. 4, on the corner lot of Unity Baptist Church (2320 29th Street).
Two-time champion Kona Kannon Ballers head up a 40-team field – the largest ever – for the Wiffleball event of the summer.
"This has become big, something people start to plan around," said tournament director and head groundskeeper Sam Beason. "That's what we wanted, for everybody to have such a good experience they want to come back."
The 40-team field was full after less than two weeks of opening registration.
The tournament is one of the best single-day fundraisers for the organization that started in the spring of 2013. That first summer they hosted the inaugural Wiffleball tournament and it has grown bigger and bigger each year.
"One reason it has become such a great event is Sam Beason," said AFA president Mark Maynard. "He manicures those fields like they're his own front yard. Sam does so much to make this tournament special, from arranging the brackets to purchasing some of the coolest trophies you'll ever win."
The emphasis is on having fun for the entire family. There will be a bounce house and an extreme water balloon battle with more than 1,000 balloons.
Andy's with chef Andy Moore will be smoking barbecue on the scene and selling his sandwiches and sides with all the proceeds benefiting Amy For Africa. Chick-Fil-A donates sausage and chicken biscuits that are sold for those who arrive early.
Amy Compston, who spent five weeks in Uganda this summer, will have sandals made in Africa. There will be some other items available for purchase in a silent auction.
"We are so thankful for all the teams that are playing, for Andy Moore, our friends at Chick-Fil-A and Matt Fultz and Kyle Gilmore and especially Sam Beason," Compston said. "He gives so much to this tournament and we couldn't do it without him. He's our MVP."
All the former champions – L-Train, Benny and the Jets (formerly Baseball Bunch), One-Hit Wonders (formerly Shepherd's Fold) and two-time champion Kona Ice (two-time champion) – are in the tournament.
A couple of marquee openers includes L-Train against One-Hit Wonders, both former champions, and Ashland Police Department vs. Boyd County Sheriff's Department. APD fell to Kona Kannon Ballers in last year's championship game.
Another interesting matchup pits state Sen. Robin Webb's Rockin' Robins against state Rep. candidate Terri Clark and her Terri's Terminators.
A six-team competitive tournament will take place Friday night.
Kona Ice will be the corporate sponsor of the tournament for the third consecutive season.
"It's one of my favorite days of the year," said Kona Ice co-owner Matt Fultz.