RUSSELL – Tanner Lee said he wanted to run for something bigger than himself in Saturday's Ohio Backyard Ultra Marathon in Lucasville, Ohio.
The 25-year-old decided to wear the Amy For Africa colors and raise support for the organization. Sponsorships to send children to school are available for $29 per month. Lee, who attends Russell First Baptist Church with AFA founder Amy Compston, said it would be a worthy cause to support AFA as he runs.
"God has given me the ability to run long distances," said Lee, who will be in his fourth Ohio Backyard Ultra marathon. "I wanted to glorify God and do something larger than myself. Ultra running can be a selfish endeavor, but I wanted to find some way to do it for God."
After speaking with Compston about a current need for the organization, she shared with him about the child sponsorship program and the $29 per month cost per child.
"If somebody asks me about it, I'll be able to tell all the good things that are happening through Amy For Africa," he said. "I've gone to the website to learn more about it."
The ultra marathon can be a brutal run for competitors who run 4.1-mile loops for as many hours as they can. It's a physical battle to the finish but also a battle of wills, Lee said. He won the first time he participated, logging 38 hours in outlasting the field. The second year he had 36 hours and last year it was 17. His goal for the ultra this time is 50.
"Every 12 hours you go from running on a trail to running on a road," he said. "You run trail during the day and road at night."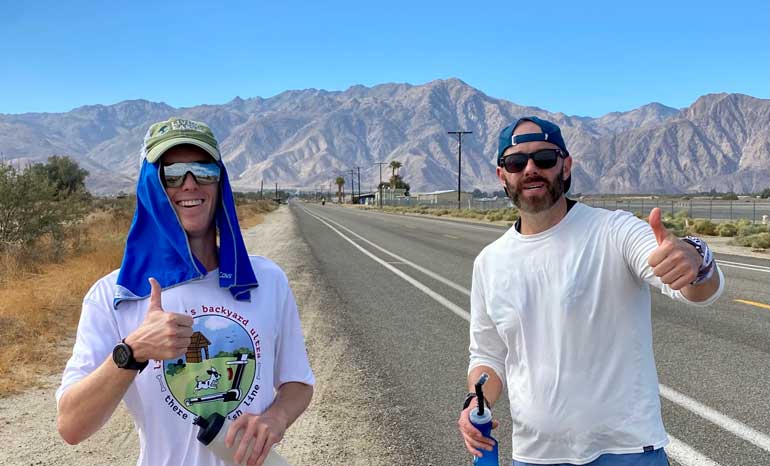 Tanner Lee, left, will be running the Ohio Backroads Ultra marathon for AFA on Saturday.
Runners typically average between 15 and 24 hours of running, he said, and the race is not over until the second-to-last runner stops running. Otherwise, you run continuously and at no less than a 15-minute pace per mile.
Compston has run several different ultra runs in an accomplished career. She participated in four Boston Marathons, ran a 50-mile race in Nashville and she and husband, Chris, completed a three-day 95-mile run called the West Virginia Trilogy in the mountains of West Virginia. She hasn't competed much in extra-long distance running in recent years.
She appreciates more than most what Lee is trying to accomplish athletically, knowing what it takes to compete in the ultra-marathon endurance races. Having him run for AFA swells her heart.
"We appreciate him choosing to run for the children of Uganda," she said. "It's a blessing. There are a million other causes he could have chosen. I praise God for putting us on his heart."
Lee said he has heard Compston speak once at church but hasn't been a member long. He plans on learning more about her and listening to her powerful testimony soon.
"However she wants allocate any money that I receive is fine with me," he said. "I heard her talk about the hardships and sufferings the Ugandan people faced and I knew she was a missionary devoted to Ugandan people, but I don't know Amy that well. I've only been a member of the church since 2019. Evan Allison, who also goes to church there, knew about my running and he told me about Amy."
The Ohio Backyard Ultra caps its field at 110 runners. The race begins at 7:30 a.m. Saturday.
Lee said he began training for the ultra the day after Christmas and logs between 30 and 70 miles per week in preparation. "It's like the Indy 500 only with humans instead of cars," he said. "This race brings in some world-class ultra marathon runners, too."
He said it is an honor to run for AFA and he hopes it brings awareness and people ask him questions about the organization. "Hopefully, maybe I'll even get to give a gospel presentation to somebody. At bare minimum, I'll let them know who I'm running for."
Mark Maynard is co-founder of the Amy For Africa mission, and also serves as its president. Reach him at (606) 571-1031 or mark@amyforafrica.com.