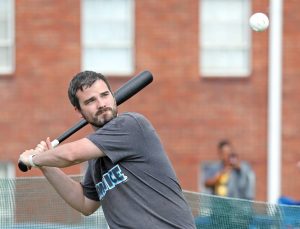 ASHLAND, Ky. – Matt Fultz is gearing up for his Wifflle Ball Home-Run-A-Thon Friday and Saturday on the corner lot of Unity Baptist Church.
Fultz, a CPA and small business owner of a Kona Ice franchise in Ashland, is attempting to hit 762 Wiffle ball home runs over a 24-hour period between 5 p.m. Friday and 5 p.m. Saturday.
Why you ask?
Glad you did. Fultz is trying to raise money for Amy For Africa, which is building a school in Njeru in the country of Uganda. The five-year-old organization continues to grow through God's blessings.
"God has provided in some of the most miraculous ways," said AFA co-founder Amy Compston. "This is another one that blesses us so much. We are so thankful to Matt not only for doing this for us but sponsoring our Wiffle ball tournament the last three years."
While the 762 home run total is big, the more than $2,000 raised already is much bigger. Fultz has already doubled his original goal and he'd like to see that $2,000 become $4,000 or even more.
Why 762 home runs?
Fultz wants to equal or surpass the Major League home run record of Barry Bonds, who needed 22 seasons for his massive total. Fultz is trying to equal it in 24 hours with Wiffle ball home runs traveling over a 70-foot fence from left field to right field.
How do you give?
That's easy. Just go to the donation page on amyforafrica.com and put HR challenge or Fultz in the message.
How can you help?
Matt will need some encouragement as he grinds through the swings. Stop by and cheer for him on Friday night or Saturday morning as he inches toward the total.
Several friends are lined up to pitch and collect balls. We will try to get some music going too and have somebody there with AFA to provide information.