ASHLAND, Ky. – Scott Walter hopes his loss will be Amy For Africa's gain.
Walter is beginning a six-month weight-loss challenge and is asking his friends to support him in the endeavor by supporting the Christian ministry.
Walter's mission is to shave off some unwanted pounds from now until July 1. He weighed in on Saturday, tipping the scales at 360.8 pounds. He called it a "very embarrassing truth" and is determined to start taking off the pounds.
He wants to get down to 225 pounds but has a six-month goal of 90 pounds. He is asking friends to donate $1 per pound lost – or more if you desire – to keep him accountable. Every dollar raised will go to AFA, which Walter has supported from the beginning of the ministry in 2013.
"I can't thank of better incentive for me than to raise money for the children of Uganda and this great ministry," he said. "It's obvious that God is working through Chris and Amy (Compston)."
He and AFA co-founder Mark Maynard raised thousands of dollars in what was known as the Big Boy Challenge, a 5K race that Walter won, in 2014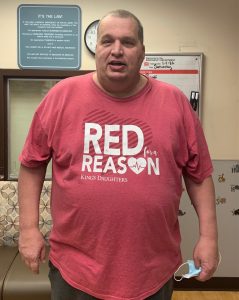 . He's also been part of each of the AFA Wiffleball Tournaments.
Walter said he has struggled with weight for nearly two decades and has had times when he has taken off weight, only to put it back on plus some. His strategy this time: no soda and cut way back on carbs.
He said the more accountability on him, the better, and knowing his loss is AFA's gain gives him incentive to lose the pounds. Walter also wanted to make it a public challenge to add a little more pressure on himself.
"I want people to hold me accountable if they see me out in public," he said.
His weigh-in on Saturday was witnessed by a nurse and phlebotomist in the ER at King's Daughters Medical Center where he works. The next weigh-in will be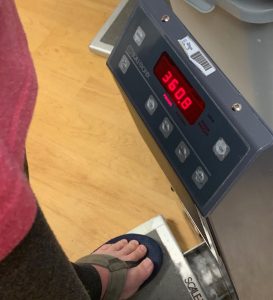 Saturday, Jan. 15, with additional weigh-ins following every two weeks for six months.
Let us know if you'd like to encourage Scott on the journey by agreeing to the challenge of $1 per pound, $5 per pound or even 50 cents per pound. Just make a comment and the total you'd be willing to donate on July 1 when the six-month challenge ends.
If 100 of Scott's friends agree to the $1 per pound challenge, and Scott can reach the 90 pounds lost goal, Amy For Africa would receive $9,000.
"We're thankful for Scott's support and love him very much," said Amy Compston. "We will be praying for him as he goes through this journey. We're rooting for you Scott!"