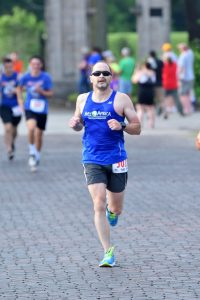 FLATWOODS, Ky. – Gary Coovert runs not only for himself but for a purpose. He always has and always will.
Coovert was one of the first runners to wear the Amy For Africa colors in road races and he celebrates running his 20th marathon on Nov. 3 in the Monumental Marathon in Indianapolis.
In recognition of that milestone, Coovert is asking friends and family to donate $20 in sponsorship that will be donated to the AFA ministry. The goal? Whatever God provides.
Amy's avid running history – and her passion for the children in Uganda – tugged on Coovert's heart four years ago. He followed her path with running and wants to give back to an organization that he has come to love and support.
"When I started my running journey I never imagined how God would use the opportunities, friendships and challenges to shape my life," he said. "One of the great blessings was to meet Amy Compston and get to be a small part of AFA. I would like nothing more than to use this opportunity in Indianapolis next month to support the work Amy is doing in Uganda."
Compston considers all of those who run for AFA to be part of a mission that has literally touched thousands around the world.
"Gary's dedication to running and to Amy For Africa have always been there," Compston said. "We are so proud to have runners like Gary wearing the Amy For Africa colors in 5Ks, 10Ks, half marathons and marathons. It's a source of pride for us to have these runners, like Gary, giving of themselves."
Amy's sister-in-law, Danielle Wesolowski, completed the Chicago Marathon on Sunday in AFA attire while raising funds for the school in Uganda. Neil Johnson has been an avid running and fundraising supporter along with Chris Long and Amy's sister, Tracy Vazquez, who recently competed in a half-marathon with Danielle in Clark County, Ky.
Coovert was not only one of the first to wear the AFA colors in races, but he's a regular contributor to the organization's projects.
"Gary has been a faithful supporter to Amy For Africa for many years and we consider him a great friend of AFA and a brother in Christ," Compston said. "It's such a joy to see him with our colors on because of the respect we have for him."
Donate to Coovert's race in Indianapolis at amyforafrica.com and put Gary in the message area or contact Amy For Africa or Gary Coovert via Facebook.