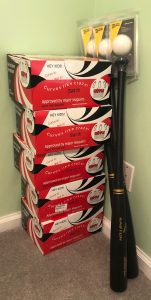 ASHLAND, Ky. – Matt Fultz takes his Wiffleball – and his one-day feat of hitting 762 home runs – seriously.
Yes, 762 home runs.
Seriously.
Fultz, a CPA who also co-owns a Kona Ice franchise that has partnered with Amy For Africa as corporate sponsor for half of the organization's six annual wiffleball tournaments, is taking his swing a step farther.
When you have 120 Wiffleballs and three bats arrive in the mail, something has to be up.
Fultz hopes what's up are Wiffleballs sailing over the fence on Aug. 10-11 on the corner lot of Unity Baptist Church as he attempts a 24-hour effort to blast at least 762 home runs, the same total Barry Bonds hit during 22 major league seasons.
He already has pledges well over $1,000 that will be donated to Amy For Africa. Fultz said he would like to at least triple that total.
"It's going to take a team of us," he said. "I have about seven or eight pitchers lined up. I don't expect this to be easy for me or them."
Besides the obvious fatigue factor, Fultz is not long off the disabled list after breaking his arm about two months ago.
"I'm not worried about my arm," he said. "I'm worried about my core."
Twisting the torso with enough torque to send Wiffleballs flying may take its toll with the repetition it's going to require. He may also have blisters on his hands and the bottom of his feet.
So it's a test of more than endurance. There may be some pain with it.
"When you see what Amy (Compston) and Amy For Africa is doing, you shouldn't let pain stop you," he said. "They're doing all the work to provide an education and even food for the kids over there. I'm not going to talk about my pain."
AFA's wiffleball tournament is Aug. 4. His Kona Ice teams have won the championship in two of the five tournaments and Fultz was a standout baseball player at Rose Hill Christian School where he started on the varsity for seven seasons.
Fultz is asking friends to sponsor him at one of four levels – $10 (single), $20 (double) $30 (triple), $40 (home run), $50 (grand slam) or $100 (MVP).
Friends can also donate per home run – even a dime per dinger – or any other total is acceptable and all donations are tax deductible through AFA. Checks should be made to Amy For Africa or donors can visit amyforafrica.com and donate there. Please note home run challenge. Donation buckets will be available on site too.