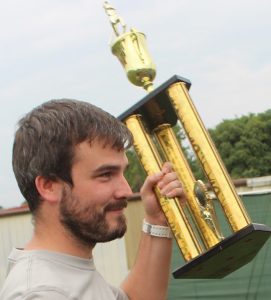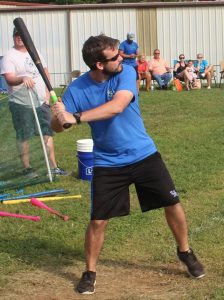 ASHLAND, Ky. – A local CPA and businessman will be taking some swings for Amy For Africa next month.
Matt Fultz, whose Kona Ice franchise is a three-year sponsor of the popular Amy For Africa wiffleball tournament, will be trying to hit 762 wiffleball home runs – matching Barry Bonds' major league all-time home run total – on Aug. 10-11 on the corner lot of Unity Baptist Church.
It took Bonds 22 seasons to become baseball's home run king, but Fultz has only 24 hours to complete his one-day feat.
Fultz isn't doing it just for the fun of it but is asking sponsors to support the effort that will benefit Amy For Africa's work in Uganda. The organization recently purchased three acres of land overlooking the Nile River in Njeru with plans to build a new school.
He has already secured $800 in pledges from family and friends and is taking aim on quadrupling that total by the end of Aug. 11.
Fultz said he wanted to do something with the athletic ability that God had given him.
"It's kind of a running joke in the family that I got the athletic ability and my sister got the musical talent and mine is not as useful after the age of 18," he said. "If I can make it useful one time, that'd be great. Amy For Africa is a tremendous organization."
Fultz appreciates the work of Amy For Africa, which is one reason why he lends support during the wiffleball tournament that he considers "one of the best days of the year." AFA's wiffleball tournament is Aug. 4. His Kona Ice teams have won the championship in two of the five tournaments and Fultz was a standout baseball player at Rose Hill Christian School where he started on the varsity for seven seasons.
The idea for the wiffleball home run derby came after he read about Jamie Kennedy, who in 2012 raised $10,000 for the Make-A-Wish Foundation by playing 10 rounds of golf in one day. "He walked 63 miles," Fultz said. "I'm too fat for that and too out of shape."
But taking a swing at a home record spoke to his inner child. "I can hit a wiffleball," he said.
Fultz will need an official counter and several arms to throw an estimated 2,500 pitches. He plans on starting in the evening on Aug. 10, getting some rest, and then returning early the next morning.
In one practice session, he clobbered 65 home runs in 45 minutes, he said. The fence will be 70-feet distance to all parts of the field, he said. The official wiffleball rules say to use a fence at least 60 feet from home plate.
He expects to tear through at least 100 wiffleballs since some will crack after repeated use.
Fultz is asking friends to sponsor him at one of four levels – $10 (single), $20 (double) $30 (triple), $40 (home run), $50 (grand slam) or $100 (MVP). Friends can also donate per home run or any other total, of course, is acceptable and all donations are tax deductible through AFA. Checks should be made to Amy For Africa or donors can visit amyforafrica.com and donate there. Please note home run challenge. Donation buckets will be available on site too.
"It's going to be fun but it's going to be hard," said Fultz, who only recently recovered after suffering a broken arm. "The arm is fine. I'm more worried about my core after taking that many swings."
Fultz is also asking for support from friends to stop over and encourage him while he's swinging for the record.