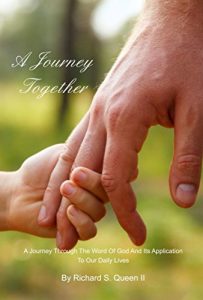 ASHLAND, Ky. – "Journey Together," a new devotional book written by a bright young Christian man from First Baptist Church of Russell, will benefit the Amy For Africa mission.
The author is Richard Queen, who offered his devotional writings last year to anyone who wanted them, has put the year's work in book form. It is available on Amazon in book and ebook format.
In an email to friends and supporters last week, the 34-year-old Queen explained why they hadn't seen more devotional writings from him.
"Because of your prayers, support and encouragement – bless God – He has made a way for all of last year's writings to be published into a book," Queen said. "I have been working diligently to get it ready for publishing and it is finally here."
The book includes the writings, multiple study resources and a full scripture index, he said.
Queen is giving all profits from the book to Amy For Africa, an organization that works out of Uganda building schools and providing healthcare and other necessities in the community of Njeru. Queen attends church with AFA co-founder Amy Compston and her husband Chris. He has admired their dedication to the mission work.
The devotional book has already been given support through Bible study groups and churches.
"I am humbled by the response and I look forward to seeing what God will do," said Queen, who is chief financial officer for Huntington Internal Medicine Group. He and wife, Amy, have three children.
Here is a description of the book from Amazon:
"There is a difference between awareness of sin and brokenness over it. Awareness alone stems from the mind and causes outward religion. Brokenness stems from the soul and brings an unveiling of the heart before God. Through relationship, instead of religion, God then begins to transform the mind, revealing His beauty. Come with me on a journey through the word of God as we learn to love God, not for what He does for us, but for who He is. Herein contentment is found."
The 228-page Kindle book is $9.99 and the paperbook $14.99. The full title is "A Journey Together: A journey through the Word of God and its application to our daily lives."
Click here for a link to the book.