A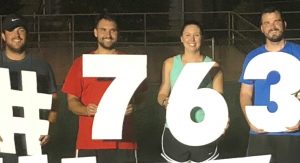 SHLAND, Ky. – Barry Bonds, eat your heart out.
Matt Fultz hammered 763 home runs – albeit Wiffle ball home runs – in five hours to benefit Amy For Africa.
The Ashland CPA and businessman set a goal of surpassing Bonds' 762 career home run total in 24 hours at a makeshift Wiffle ball field beside Unity Baptist Church.
He underestimated himself, clubbing home runs in rapid fashion while taking about 2,000 swings against four different pitchers. His longest home run streak was seven, accomplished several times throughout the night.
He averaged 152 home runs per hour and knocked one out of the park every 24 seconds. It was an amazing pace that even surprised Fultz, who was wringing wet with sweat with blisters on his hands. He drilled about 120 home runs in the first hour and improved on the pace as the night wore on.
Both of his record-tying and record-smashing home runs cleared the 70-foot fence by a good 20 feet. He purchased makeshift lights to shine on the field to allow for the late play.
Fultz didn't celebrate but more breathed a sigh of relief after the five-hour marathon was over.
"Thanks everybody for watching along," he said to the Facebook audience who followed along throughout the night. "I'm going to go home and take a shower."
He planned on coming back Saturday morning to take a few more swings and maybe make it to 1,000 home runs – if the weather permits.
Friends pitched to him and shagged balls for the five hours, all with AFA in mind. Fultz asked the public and his friends and family to donate to Amy For Africa through what he was trying to do. It didn't fall on deaf ears. More than $2,500 had been raised prior to the event night.
Here is a message Amy Compston, the co-founder of Amy For Africa, sent to Fultz on Facebook:
"BROTHER, I seriously can't THANK YOU enough for your very creative but extremely selfless act of LOVE!! Thank you for your willingness to sacrifice your time, energy and comfort to help us share the GOSPEL around the world!!! I LOVE your HUGE HEART for others!! You are a BLESSING to so many here and around the world!!"
Compston was visiting family in Tennessee where she will be speaking on behalf of AFA on Sunday. She watched throughout the night on Facebook and sent words of encouragement to Fultz.
Fultz hit the record-breaking home run off his buddy and Kona Ice business partner Kyle Gilmore at almost exactly 10:30 p.m. Aaron Snyder, Anthony Stidham, Gilmore and Kenner Bailey took turns pitching four buckets of 20 Wiffle balls.
Bailey has already issued a challenge to surpass Fultz's total in 2019. "I'm coming after you Matt," he said.