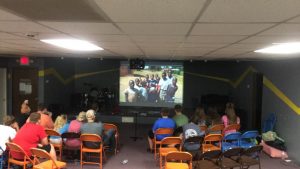 ASHLAND, Ky. – Imagine going 30 hours without eating.
Now imagine being 13 to 18 years old and doing it.
No way?
Say hello to the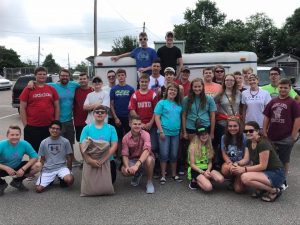 youth group at Unity Baptist Church, affectionately known as The Unit.
The Unit, led by youth director Brad Callaway, made it through the 30-Hour Famine Challenge and reached nearly 150 percent of their $2,000 goal by raising $2,888 that will be donated to Amy For Africa.
Not only did they raise the money for AFA but they also made other impacts throughout the area during the famine time, like praying on the school grounds of every school district in the area.
They did anything they could to keep their minds working while their stomachs were growling.
When it was all over, a few of the parents put together a breakfast feast that was quickly devoured. And then a few brave souls stayed around for an 8 a.m. game of Wiffle ball in the AFA tournament. They also watched videos from AFA trips and informational trips on Christian organizations coming to the rescue of hunger.
"It really put in perspective why we sacrificed in such a way to help many in need," Brad Callaway said.
That grumbling in the tummy? It's what many of the children at the El-Shaddai experience on a daily basis. Sometimes the only meals they receive all day come from what the school serves them every day for free.
The nearly $3,000 donation will be put to good use, said co-founder Amy Compston.
"What an awesome group of kids and wonderful people who gave to them through Unity Baptist Church," she said. "We are so thankful to them and love Brad and Laura (his wife) so much. They are longtime friends of Amy For Africa."
Seventeen members of the youth group participated in the famine, Brad Callaway said.
"One of the most eye-opening moments was when we learned we had broken the $2,700 mark on our donations," he said. "We set a goal of $2,000 knowing it would be a challenge but God's timing was evident that He used many people to take it beyond what we thought we could ever do."
Callaway said the night's theme was that "God could do anything with a faithful few."
He said they were reminded of that every time they stopped at an area school and prayed.
"We have a few students sprinkled at every school in the area but, man, are they faithful to the Lord."
Callaway said the student ministry was thanked several times for what they did but he said the youth group was "truly thankful to partner with a mission who is passionately serving Christ. Jesus is who it's all about."
Amy will be speaking at Unity Baptist Church at 6 p.m. on Aug. 19 and to the UBC Prime-Timers at 11 a.m. on Aug. 28.
The church's monthly mission emphasis is Amy For Africa.