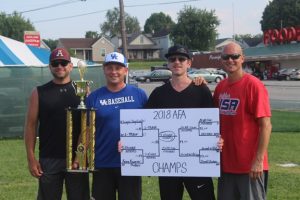 ASHLAND, Ky. – Five O'Clock Hitters blasted their way through a 40-team field with home run power to win the sixth annual Amy For Africa Wiffle Ball Tournament on Saturday.
Ryan Lynch's long bomb with one out in the bottom of the third was a walkoff homer that provided a 9-8 victory over the Me-Di-Con Mashers in an exciting championship game.
Ryan, his brother Rob Lynch, Adam LaLonde and captain Ben Maynard eliminated two-time champion Kona Kannon Ballers in the quarterfinals and then had an interesting semifinal victory over L-Train.
Ryan and Rob Lynch were part of two teams – Five O'Clock Hitters and L-Train.
Maynard had to find two free agents to replace them for the semifinals, which the Hitters won 6-5 to reach the finals.
Once they were back together, they couldn't be stopped, belting seven home runs in the championship game. General manager Derek Runyon, vacationing away from Ashland, was pleased to learn his team won the championship.
"I'm surprised they could do it without me but it looks like I may be a better GM than player," he said.
Runyon's playing history in the AFA tournament includes a walkoff home run to win the title a couple of years ago.
"There's not a better feeling in the world," he said. "I need to teach Ryan had to celebrate a little more."
The Hitters trailed 8-6 going into the bottom of the third but back-to-back homers from LaLonde and Maynard set the stage for Ryan Lynch's game-winning blast well over the "Green Monster."
He took a second to admire the monumental home run and then began high-fiving with teammates, starting with a smiling LaLonde.
The Lynch brothers and LaLonde were teammates on the inaugural AFA wiffle ball championship team in 2013. They captured the "Snowman" trophy that year but AFA officials have since upgraded the hardware.
The Mashers, who almost lost their first game to the El-Shaddai Screamers (Amy Compston's AFA team), fought to the championship game with some smashing wins of their own.
The Mashers eliminated Greek Wiffology, 9-4, in the semifinals.
David Caldwelll, one of several members from House of Grace playing for the Swinging Shepherds, won the Home Run Derby.
Three girls – Jesse Brown of Premier Power, Terri Harmon of Inez First Baptist Church and Janae Graham of Travis Hall Foundation – belted home runs to become only the second, third and fourth females to hit AFA Wiffle ball long balls. Graham's brother Justin, a great young athlete who died from leukemia this past year, played for Travis Hall Foundation two years ago when they were the AFA competitive tournament champions.
Brown's was an opening pitch drive onto 29th Street from the Camden Yard field while Harmon's rocket tinged off the new Citgo sign atop the Green Monster on the main field.
AFA raised around $3,000 through the tournament proceeds.
Andy's Barbecue, Chick Fil-A and Kona Ice were sponsors with Kona being the major sponsor for a third consecutive year.