ASHLAND, Ky. – Amy Compston's "Grace Story" came alive to a worldwide audience on Thursday via the Christian Broadcasting Network's 700 Club.
Compston, who co-founded the Amy For Africa mission in 2013, overcame 14 years of drug and alcohol abuse after fully surrendering to Jesus Christ in the summer of 2012.
The AFA mission blossomed from being a one-time fundraiser to a full-fledged international Christian ministry in Uganda. The organization is building a $1.1 million school in Njeru that will eventually hold 1,000 students.
WATCH AMY COMPSTON ON THE CHRISTIAN BROADCASTING NETWORK HERE.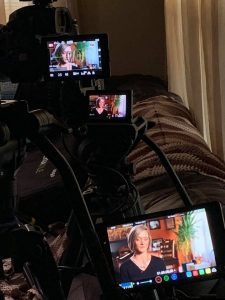 However, her "Grace Story" has been a testimony that has touched thousands even before going on the ultra-popular 700 Club program.
"I thought it was great," said Compston, who didn't get a preview of the six-minute segment. "I almost cried (watching it)."
Her emotional testimony has been at the root of the mission that she founded after running in the 2013 Boston Marathon and finishing 30 minutes ahead of the bombs.
In the segment shown Thursday, she talked about her close brushes with death because of the drug abuse.
"We have no idea what God is going to do with this but we are thankful for the open door it provides," Compston said.
Amy's husband, Chris, taped the program on the DVR every time it appeared Thursday. "He said, 'I'm not going to miss this."'
The segment delved almost exclusively on Amy's story of drug abuse and turning her life over to Jesus.
The 700 Club is broadcast in 28 countries and has been on the air for 42 years.