ASHLAND, Ky. – The #BuildThatSchool miracles are just beginning!
In less than two months, the supporters of Amy For Africa have purchased 126,000 bricks for the AFA Christian Academy.
The campaign, with the hashtag #BuildThatSchool, started on Aug. 12 and the last of the nearly 20,000 bricks were purchased Oct. 7 by an anonymous donor.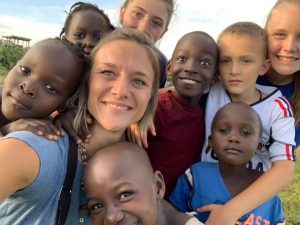 Bricks were 20 cents apiece and they were purchased in every increment imaginable, from $1 to $10,000, and just about everywhere in between. Sunday School classes, church congregations, children, youth groups and men and women from every walk of life contributed.
Any of the 138 individuals who donated to the AFA Brick Campaign will be part of the legacy that is God's work.
"I'm overwhelmed with gratitude," said Amy Compston, the guiding force behind the mission. "AFA supporters are so generous, so kind and so loving. I'm moved to tears."
The total cost for the 126,000 bricks was $25,200. They will be part of the first phase of the AFA Christian Academy. Last week, AFA put down 20 percent of the $561,000 first phase of construction that will begin Friday morning in Uganda.
"We are trusting God for the rest and we know He is faithful," Compston said. "It has been a blessing day to day to see how God is working to bring this school to completion. We are believing in God to build His school."
The entire project will be $1.1 million over five years. It will be able to accommodate 1,000 children upon completion and dorms will house 100 boys and 100 girls. It will include a sick bay, teacher's quarters, a big kitchen, a chapel – and running toilets (a luxury in Uganda!).
Big equipment will be coming onto the 3-acre partial of land on Friday to begin 15 months of construction work. The school children and teachers are excited and will be part of an historic day that they will remember for a lifetime: The day the AFA Christian Academy started going up.
"We are watching God work right before our eyes and it's so good," Compston said.
The first phase of the AFA Christian Academy, which includes the classrooms and chapel, is scheduled to open in January 2021.
Go to www.amyforafrica.com/donate to give.