ASHLAND, Ky. – The Lord opened a giant door for the Amy For Africa international Christian ministry on Tuesday with a visit from the Christian Broadcasting Network's 700 Club.
Amy Compston shared her "Grace Story" to the 700 Club's cameras and that story will soon have an international and national audience on one of the world's largest Christian television networks.
The filming has been in the work for a couple of months. The date it will air hasn't been determined.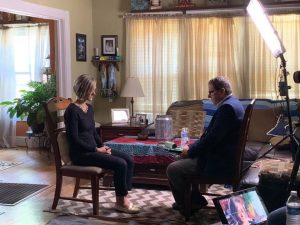 "The Lord opens doors that only He can open," Compston said. "It was a blessing having them here in Ashland."
The 700 Club team filmed at Amy's house and in Central Park with husband Chris and children Bailee, Bear and Jarek. The production started with prayer and they stayed all morning and afternoon listening to Amy share her heartfelt story of overcoming 14 years of drugs and alcohol abuse and becoming a missionary to Uganda.
Amy says her recovery from addiction is completely attributed to becoming a true follower of Jesus Christ seven years ago.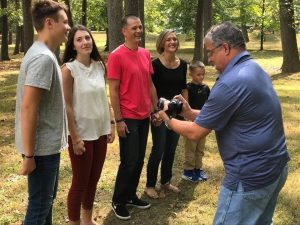 "The 700 Club was incredibly kind and patient with us," she said. "We are believing God to use this episode in a mighty and powerful way for His glory."
Construction on the AFA Christian Academy is scheduled to start this week. The first phase of the school will cost $561,000 with 20 percent already paid. Completion date for the first phase is January 2021.
It will take five years to complete the $1.1 million Christian school in Njeru, which is near Jinja.
The AFA Christian Academy, with about 85 students, is currently operating in a house near the building project.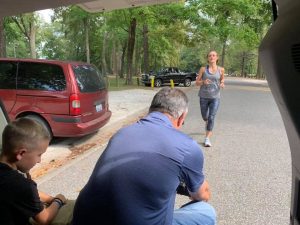 Amy For Africa started in 2013, nearly a year after Amy surrendered completely to Jesus in the summer of 2012. The organization helped start six Christian schools in the Moyo area of Uganda before God called them to the Njeru area in 2016
Anyone interested in helping AFA can click HERE.