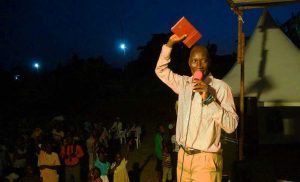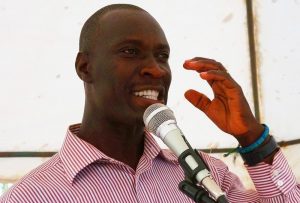 JINJA, Uganda – God is alive and working in Uganda.
A six-day seminar and crusade at the LifePoint Church in Jinja led to 70 more salvations this past week.
The seminar, a Bible study, closed on Saturday and the crusade finished up on Sunday with visitors traveling back home. Most of them walked miles on dusty roads to attend.
LifePoint Church, with Pastor Cyprian Illukol, used finances from Amy For Africa for both the seminar and crusade. They were fed meals and, more importantly, fed the Word of God.
Cyprian is the administrator of AFA's kindergarten in Uganda. AFA has partnered with him since last August.
"During the six days, we experienced revival, deliverance, and spirit refilling, not forgetting Biblical teachings," he said. "It was a miraculous moment!"
God is clearly moving in this dark part of Africa where witch doctors still roam and evil lurks on every corner. But God is dealing with that as well.
One of the 70 saved in the revival was the town witch doctor, or sorcerer, as he is known there. His young son attends the AFA kindergarten and the Christian influence, from what this young child was taught, went home with him daily.
"This is what is happening at the school where our trained teachers, all who love the Lord, share daily with these students," said Amy Compston of AFA. "I'm so proud of Cyprian and our teachers and all they are doing to reach these students who are, in turn, reaching their families."
As a show of truly turning away from that lifestyle, the witch doctor was saved one night and came back the next morning for Bible study. He also burned his witchcraft tools in front of the others. The impact will be immense with eternal rewards.
"We can see so clearly the Lord working in this area," Compston said. "We know Cyprian's heart and God's love is being poured down all over that place. God is changing this dark community one soul at a time and we are so honored to be invited to be part of it."
The crusade drew people of many different religions and backgrounds. "This gave us a platform to share Christ with them," Cyprian said. "Praise the Lord, we were able to preach and 70 souls were saved!"
It doesn't end there, he said. "It is now our responsibility to pray for these and also make follow-up visits."
Back in January, AFA had a small mission team on site and they had a five-day conference and crusade where 82 came to know the Lord. The AFA team had the honor of watching 25 of them be baptized in the Nile River.
"We have no idea what the Lord has in store for AFA, Pastor Cyprian, his church and our school but we are so uplifted as we see these sweet souls come to know the Lord," Compston said. "This is why we do what we do at Amy For Africa. It has nothing to do with us individually and everything to do with helping more people come to know our living and loving Lord."