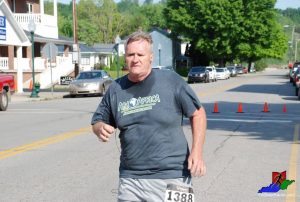 ASHLAND When Chris Long lines up for the Summer Motion 10K on Saturday morning he will have a milestone on his mind.
The run through downtown Ashland will be the 100th road race for one of the Amy For Africa team's favorite runners.
Long has been a devoted supporter of the AFA mission since it started three years ago. He collects t-shirts from the races like everybody else but nearly always wears his AFA gear to the race.
"We appreciate Chris Long so much for his amazing support," said Amy Compston, a co-founder of AFA and the face of the mission. "He has given us his time, his support and his love. We are so proud of him."
Long said he has run the Summer Motion 10K "about three or four times." While he may not win the race, he will finish. He always finishes strong.
Long is devoted to his church and his former neighborhood where he grew up. He also has shown much love for Amy For Africa. If somebody asks him about his running shirt with the AFA logo on it, he's happy to share with them what the mission represents.
"We love all of our runners for wearing our colors," Compston said. "Chris is special to us though. Every week, whatever race he is running, he wears those AFA t-shirts. It's a good way to get the word out about what God is doing through this mission."
Long is superintendent at the water plant for the City of Ashland. He's also an outstanding woodworker and has made several yard signs, including some for the AFA family.
"Chris is one of us," Compston said. "We support him in everything he does and wish him well on this 100th race. That's a tremendous milestone."