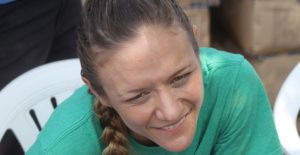 CHARLOTTE, N.C. — Amy Compston, the name and face behind the Amy For Africa mission, will be recognized on Saturday night along with two others as one of Samaritan's Feet International's Women of Influence.
The organization, based in Charlotte, N.C., will honor the women at the Samaritan's Feet Barefoot Gala at the Sheraton in Charlotte.
"Honestly, I'm very honored but I hate that it's just for me because Amy For Africa is a team," Compston said. "I wish I could have everyone who has ever helped in any way on there."
Considering she was initially hesitant to even adopt an organizational title with her name at the front, Compston said she's come to better understand what it means when people cite her as an inspiration.
"I hear what people say, but I don't really see it," she said. "I really just try and just struggle to do what the Lord wants me to do. It's only by His grace that I'm alive today."
Compston later added she hopes people "see God inside me" when they find motivation from her life and her story of triumph over drugs and alcohol to become an elite runner and active missionary who helped deliver thousands of shoes to the people in the Moyo region of Uganda back in May.
Compston said she would never willingly return to a life of addiction, and believes the attention she's received is part of God's plan to keep her in check.
"God knows my weaknesses and I believe that's why He's given me this platform — to keep me accountable to everyone," she said, adding she knows she is "not above" a return to addiction, although she has no desire to do so.
"I believe God has given me this platform because He knew I needed extra accountability," she said, citing a lifetime of "sneaking games" and dishonest practices before turning her life into a positive force.
Compston and her husband, Chris, recently complete the grueling West Virginia Trilogy, a three-day feat covering 94 miles in the mountains. It took place on the highest peaks of the Mountain State.
Compston is a marathon runner with five world marathons to her credit, including the last three Boston Marathons. She has also run the Chicago Marathon and New York City Marathon, where she finished among the top 4 percent of females in 2014. She has already qualified for the 2016 Boston Marathon.
Last year, she and her husband ran 14 marathons in eight months to raise awareness about the needs in Moyo. The AFA team handed out more than 20,000 gospel tracts while following the runners.
Her Amy For Africa organization raised $52,000 in 90 days last winter to pay for shipping 26,316 pairs of shoes and 13 team members delivered them to children and adults in the Moyo region in May. In 30 months, Amy For Africa has watched as God blesses the ministry financially and spiritually. The sixth Penne Paris School in Uganda will go under construction in January.
Recently, the organization partnered with a federal prison in Summit, Kentucky, where inmates are giving to AFA. They also held a 5K inside the prison camp that attracted more than 60 runners and represented eight religions. Amy and Chris were permitted to run with the inmates in "The Yard" at the FCI camp.
Compston's fellow nominees as Samaritan's Feet Women of Influence were Charlotte Thompson Raney, a businesswoman who is working on behalf of people in Nicaragua; and, Monica Wright, a WNBA player for the Seattle Storm who has selected Zimbabwe as her international country.
This is the fourth year Samaritan's Feet has recognized Women of Influence.