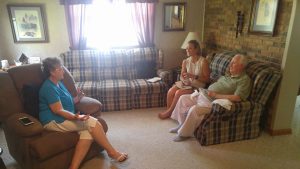 ASHLAND, Ky. – Harold Cathey's work and love for building God's Kingdom had no borders.
Most of his 50 years of ministry was in the United States, including 16 years at Unity Baptist Church in Ashland, Ky., where his expository preaching was well known. But he fell deeply in love with Uganda – "the Pearl of Africa" as Winston Churchill called it – late in his life and that legacy carries on today through the Amy For Africa mission.
Cathey, who served as a missionary in Uganda from 1991 to 2000, died on Thursday after an extended illness. He was 82.
If not for Harold and Beverly Cathey putting down the foundation of Christian work with nine years of training that produced thousands of pastors through the Global Theological Seminary in Jinja, many would have never come to know the Lord in that part of the world.
The fruit of their labor in Uganda is immense and the six-year-old Amy For Africa mission has enjoyed the bounty.
"I get to be an eyewitness of the fruit from this ministry," said Amy Compston, the co-founder of the Amy For Africa mission. "The harvest of fruit is bountiful. Praise God! I know he heard today, 'Well done my faithful servant.'"
The Catheys founded the Global Theological Seminary that has led to more than 800 churches built and 2,000 pastors trained. He also founded Victoria Baptist Church in Jinja.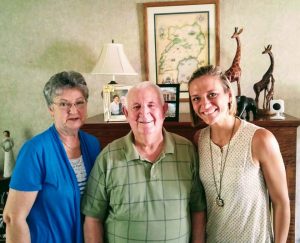 "His name is honored in Uganda as a man of God, a true missionary and a visionary," said Amy Compston, a co-founder of Amy For Africa. "As a result of his faithfulness to our King Jesus, thousands have come to know Jesus as their Lord and Savior."
Compston said she was thankful for his example of "how to truly pour out your life into Jesus and for his selfless obedience."
Two of the four Ugandan countrymen serving on the AFA board members were graduates of Global Theological Seminary and two others were baptized by him. Cathey's name still carries great respect in the Jinja region and throughout the country.
One of those men is Kadhaya Geoffrey, who operates the seminary and is pastor of Victoria Baptist Church in Jinja, said "we are his testimony of the work he did here in Uganda."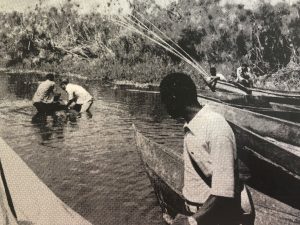 Kadhaya talked about how Bro. Cathey virtually changed his life from being a Mormon missionary to a born-again believer through training at Global. There are few better expositors of the Word of God than Harold Cathey and he was smart on things of the world too.
He didn't let Kadhaya pay any school fees at first because he was figuring that with his background in Mormonism, he wasn't likely to stick around. And he didn't want him talking in class because of his potential influence on them. Kadhaya sent his friend to take a week's worth of classes first and he reported back that the teacher was real.
So Kadhaya took a class where Bro. Cathey began teaching from Genesis and Romans and he also strategically threw in a lesson about cults.
"When he went to Romans chapter 8, that was it," Kadhaya said.
He took classes free for a year and then Bro. Cathey, when convinced Kadhaya was hooked, told him it was time to start paying school fees.
Kadhaya laughs big when retelling the stories. Bro. Cathey also convinced him to begin attending Victoria Baptist Church and asked him if he'd be interested in visiting door-to-door (knowing his Mormon background). One thing led to another and Rev. Kadhaya now not only operates Global, but also is the pastor in his 16th year at Victoria Baptist Church.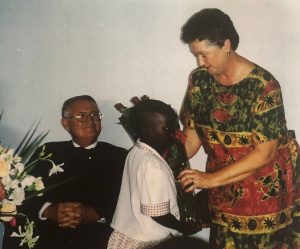 Global continues to flourish in producing high-quality pastors and one of those happens to be Cyprian Ilukol, the pastor of Lifepoint Church where Amy For Africa is currently working. Cyprian was highly recommended as someone with the utmost integrity and a true man of God. His testimony includes him walking for miles and miles to be trained at the school because he was obedient to God's call on his life no matter what the cost.
Bitakatahire Blazio is another pastor with ties to Global and Amy For Africa. He has a church and school that AFA has supported and said Harold Cathey led him to the Lord.
"I have missed the real father, the one who turned me (to) what I am now and my family, the one who was connected with me by God," he said. "May the Lord comfort Beverly in a hard time she is in."
Bro. Cathey wanted Victoria Baptist Church to be a beacon in the community and for that to happen it was going to have to be spectacular. He made it happen and the church that is now 26 years old remains one of the most beautiful buildings in Jinja. Light fixtures from Unity Baptist Church are still in place.
It was Bro. Cathey who encouraged former Unity Baptist pastor Floyd Paris to become involved in Uganda ministry and it was Paris who led a discipleship class that changed Amy Compston's life and aimed her toward Uganda.
So the Ugandan legacy of Harold and Beverly Cathey is continuing and AFA is enjoying the sweet fruit of their labor with a team that has a heart for the Lord.