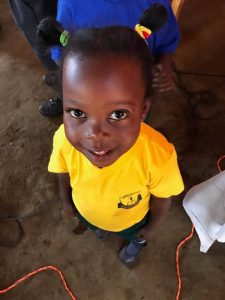 JINJA, Uganda – A new outfit, a toy and some sweeties made the day for students in the El Shaddai Nursery and Primary School where Amy For Africa is visiting this week.
The generosity of so many who made outfits, purchased toys and candy could be seen on the excitement of little faces.
Friends of AFA like Bonnie Prince, Emma Pratt, Chris Long, Amy Blankenbeckley and Andi made those smiles possible. God can use anybody in any way as he did these supporters.
"We are so thankful to everybody who provided us with the clothes, the toys and the sweeties," said AFA co-founder Amy Compston. "The kids loved them so much."
Amy and four other AFA team members visited the nursery and primary school of Pastor Cyprian Ilukol this week. It was a joyous time.
"God is working in and through the school! The teachers are doing a fantastic job with the students and Pastor Cyprian is a great administrator. He is leading his school, church, community and family to know Jesus Christ," Amy said. "God laid it on my heart in August to partner with Pastor Cyprian, to help his school ministry. Today (Wednesday) was complete confirmation that this is where AFA is supposed to be."
2 Corinthians 5:5
Now it is God who made us for this very purpose and has given us the Spirit as a deposit, guaranteeing what is to come.
2 Corinthians 5:7
We live by faith, not by sight.
2 Corinthians 5:14
For Christ's love compels us…