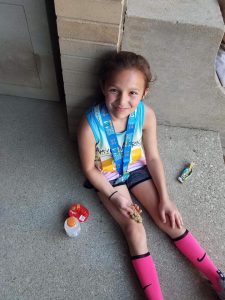 LEXINGTON, Ky. (KT) – At least half of Kinslee Wesolowski's 65 pounds must be heart.
The 10-year-old Winchester, Ky., girl completed her first half marathon on Saturday morning, running the Horse Capital in 2 hours and 38 minutes. She was the fastest finisher in the under 19 category.
"I'm very proud of Kinslee," said her mother, Danielle. "She took on a big challenge for others. It's mentally hard for an adult but for a kid, I would think it's even harder. Thankful God allowed us to run together."
Besides the running accomplishment, she also raised $2,365 to feed hungry children in Uganda. Her goal was $2,100, which would provide food for children through the Amy For Africa mission.
Her missionary aunt, Amy Compston, is a co-founder of AFA. The organization provides meals for hundreds of children every Saturday through a partnership with a Ugandan organization called Silent Whispers.
Kinslee's donation will provide food for every Saturday nearly through the rest of 2019.
"We are so proud of Kinslee not only for running the half marathon but letting God use her to accomplish even more," Compston said. "She's a special young lady. I know she's my niece, and I love her for that alone, but this touches my heart in a big way."
Kinslee had never run 13.1 miles in a competition but she asked her mother if she could do it for the Uganda children. Danielle Wesolowski told her daughter she could absolutely do it. Mom and daughter ran together in the half marathon, crossing the finish line together.
It was a hot day and the rolling hills took its toll, Daniellie said. "She hit a wall around mile 11. We just prayed and kept thinking of the kids in Uganda."
Danielle has seen with her own eyes the impoverished area after going on a mission trip with AFA in December 2017. Kinslee saw her photos and heard her parents talking about how they needed help.
Her big heart – and fast feet – did the rest.
Kinslee, who thanked everybody who supported her with donations and prayers, was exhausted upon finishing the race on one of the hottest days of the year.
"She was happy to finish," her mother said. "She said, 'Momma, I'm not running the rest of the day, actually several days.'"