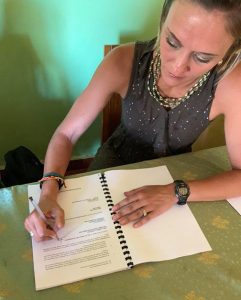 NJERU, Uganda – Amy For Africa took a free-fall of faith on a sun-splashed Saturday afternoon in Uganda, clinging to God's promises after years of praying for direction on building a Christian school for an impoverished area of Uganda.
AFA co-founder Amy Compston signed a contract with a construction team, structural engineer and project manager to begin Phase 1 of the AFA Primary School at the first of October this year.
The signing came after years of praying about what God wanted for AFA, Compston said. It remains a show of faith that the funds will keep coming in to pay for the entire project, which has a more than $1 million (US) price tag.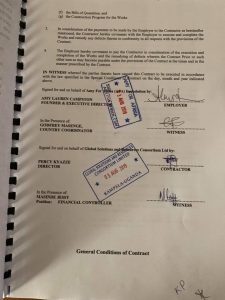 Earnest money has been put down to begin the first phase of work that is more than half that total.
It took several months for the land titles to arrive on the property that was purchased last year. An architect, who is Christian, drew up the plans and the construction engineer and project engineer are also believers.
"I'm so thankful for the team of God-fearing professionals that God has put together for us here," she said.
Compston, the construction engineers and others visited the site before the signing along with Amy's daughter Bailee, son Jarek and niece Reagan Evans. They gathered together and prayed over the land, praising God for what was to come soon.
It was a precious moment for Compston, two of her children and her niece who have been in Uganda since late June. "I'm so thankful they were here to witness this divine day," she said.
Two of the Ugandan board members, Masenge Godfrey and Moses Waiswa, were also at the site. They have been instrumental in the growth of AFA the past few years, serving more as invaluable partners in the organization. "God gave us both of them," Compston said.
Compston said she has searched scripture for God's direction since AFA began talking about building a school. It was always part of a long-range plan but as the organization begins its seventh year, all signs were pointing toward taking the leap.
"So much has happened to get us to this point. We have prayed and asked God for guidance," she said. "He has led us every step of the way. Our board members in Uganda and in the U.S. are so supportive and confident in the decision. We have so many precious prayer warriors. There is power in prayer."
The first phase of the project will be the three-story school building with a chapel inside. Later, dormitories for boys and girls, teacher overnight rooms, a sick bay and kitchen will be added to the school. Once completed it will accommodate nearly 1,000 students per year with 200 living on the campus.
The goal is to have the first phase completed in time for school to begin in January 2021.
"Our vision is the AFA school will be a sanctuary of hope, a place where the most needy experience the love of Jesus in word and action, a place of the highest quality education and a place where lives will be forever changed!! Praise GOD!!!" Compston said,
Compston, 34, said signing the biggest contract of her young life wasn't scary or intimidating but more "pure excitement" over what God has already promised and was going to do.
"Pray with us for God to open up the heavens and pour out his blessings on this work!" she said.