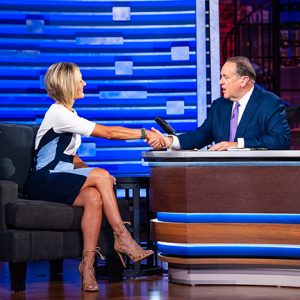 NASHVILLE, Tenn. – Amy Compston of the Amy For Africa mission made a national television appearance on the Mike Huckabee Show via the Trinity Broadcasting Network on Saturday night.
Compston was selected as one of "Huck's Heroes" for her work with the Amy For Africa mission. The segment was brief but powerful. Amy quickly shared her testimony of overcoming 14 years of drug and alcohol abuse and how she is now enjoying her fifth year as a missionary to Uganda.
"We had such a good time and Gov. Huckabee and his staff were so kind and gracious," Compston said. "God has poured his favor on our ministry and we're so thankful. He amazes us every day and this was another example."
Amy and  her husband Chris will lead a five-person mission team to Njeru in the middle of June. They will be putting on a Vacation Bible School and also signing papers on the purchase of 2.9 acres of land where the new El-Shaddai school will eventually be built.
Follow this link to watch the Huckabee show. It will also air again Sunday, June 3, at 8 p.m. on the Trinity Broadcasting Network (TBN).