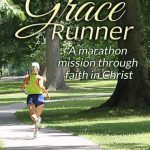 ASHLAND, Ky. – Copies of "Grace Runner" about Amy Compston and the Amy For Africa mission can be purchased by following this link.
The book is written by Mark Maynard, a veteran newspaper journalist who joined Amy on the mission and chronicled the first six months from the 2013 Boston Marathon when she finished 30 minutes ahead of the bombs to the ultra-marathon in Nashville, Tenn., where she was second among female finishers.
Along the way, what started as a one-time fundraiser was tremendously blessed by God enough that the mission has continued for five years. Amy turned away from 14 years of drug and alcohol abuse and decided to run for God and missions in Uganda after the Boston Marathon.
Cost of the book is $24 and includes shipping. Proceeds of sales go to the mission.