ASHLAND, Ky. – Land is being prepped for construction of the Amy For Africa Christian Academy.
It's time to #BuildThatSchool.
It's an exciting time for the AFA mission that started six years ago as a one-time fundraiser and has blossomed into a non-profit international Christian ministry whose goal is to share Jesus with anyone and everyone.  Since 2013 much has happened with the non-profit ministry co-founded by Amy Compston and Mark Maynard. Lives are being changed and the gospel spread in the eastern part of Uganda, and now the first phase of a new school has gone past the drawing board.
This is our leap of faith and the leaders of AFA are confident in the landing.
A contract for $561,000 was signed for the first phase of the $1.1 million AFA Christian Academy last month and the land is being sized up for leveling. Construction will soon begin with the new AFA Christian Academy scheduled to open in January 2021.
It will take 126,000 bricks to complete the first phase and the #BuildThatSchool campaign allows supporters to be part of the school's foundation. Bricks are only 20 cents apiece or five for $1, 100 bricks for $20 or 500 bricks for $100. Any donation – big or small – will make a difference and inch us toward the goal one brick at a time.
Donations for bricks have been coming in with nearly 10,000 purchased in the first four days of the campaign. Go to amyforafrica.com and in the message area after making a donation just put #BuildThatSchool and become part of the legacy.
Amy Compston has made 11 trips to Uganda in the past five years and has developed a passion for the people in Njeru, a largely Muslim area where poverty is overwhelming. AFA has provided a way for 91 children to attend school and be fed for the past three years. Teachers and other staff are paid by AFA as the school has grown from 15 students to nearly 100.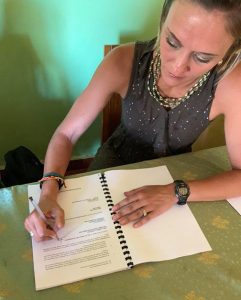 The AFA Christian Academy will eventually have room for 1,000 students with dorms on the construction plans that could house 200 of those students.
Education is lacking in the area with 90 percent of the population unable to read or write.
"The No. 1 need for families, besides food and water, is education," Compston said. "Everywhere we go we see children sitting at home. Their parents have no way at all to provide them an education."
In Uganda, attending school isn't a given. Even public schools charge school fees. In the Njeru area, families live on about $400 a year so there's no way they can afford an education for their children.
The AFA Christian Academy will provide them with a high quality education at no cost and, best yet, share the power and love of Jesus with them.
The land for the new academy was purchased last year and then came the plans for the school.
"When we moved to this new area three years ago we were limited on space," she said. "Once God gave us the land, then He gave us the vision for the school. I'll be honest, my vision at first was really small. I was limiting the Lord. A pastor friend said 'Amy, you need to go look at Riverside Academy.' So I went and saw it. It was like God said 'Do you trust me?' This was what we needed to do."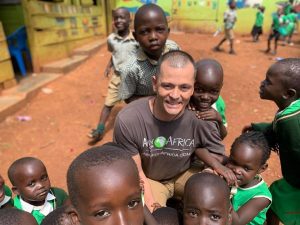 With the school building comes the opportunity to teach them about Jesus Christ, which is the ultimate goal, she said. Once they can read, AFA will make sure children have access to Bibles.
"There are thousands of children who never had the opportunity to go to school," Compston said. "We are trying to be obedient to God and let Him do the rest."
With education, these children have a future not only to be productive citizens but also to be productive Christian citizens. AFA firmly believes this school can impact generations in this area of Uganda.
"Who knows? We may be teaching a future president of Uganda," Compston said. "I don't put anything past my God."