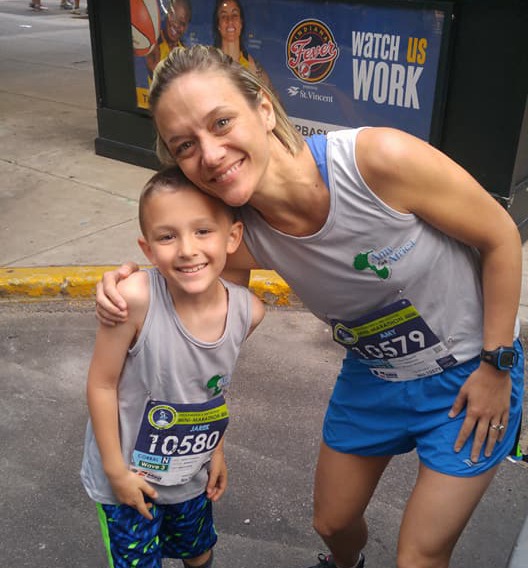 INDIANAPOLIS – Amy Compston and her 7-year-old son Jarek took on the nation's biggest half marathon Saturday, the Indy Mini, and finished in style, beating 72 percent of the field.
They completed the 13.1-mile course in 2 hours, 6 minutes and 23 seconds – a 9:39 per mile pace – and knocked 11 minutes off Jarek's previous half-marathon PR. Jarek, the youngest runner entered, was 5,490th out of 19,584 registered runners
Amy has been training her son for the last couple of months for his second half marathon. His first one was in the Marshall University Half Marathon in Huntington last November.
Running in perfect weather, Amy and Jarek started in a logjam as 35,000 runners took to the streets early Saturday morning.
"It was such an awesome race," Amy said. "I'm so proud of my sweet boy. He pushed hard."
With family members cheering them on, mother and son navigated the course which even took them onto the famous Brickyard track where the famed Indianapolis 500 takes place every May. Amy "kissed the bricks" as runners were encouraged to do. American flags and photos of soldiers were placed every few feet for a mile of the track, she said.
"So thankful for my family that is always there," Amy said. "We have the best cheer section."
Amy and Jarek were also running so that Amy For Africa could purchase land in Uganda for the El-Shaddai primary and nursery school. AFA is also celebrating a five-year anniversary this month.
Dozens contributed to the fundraiser and the organization has closed within about $18,000 of paying off the $75,000 land purchase.
"Thank you to everyone who chose to be part of this run," Amy said.
Amy, Jarek and the rest of the family had the opportunity to meet Meb Keflezighi, one of the world's top marathoners and an inspiration to both of them. He took photos with Amy and Jarek for a special moment.