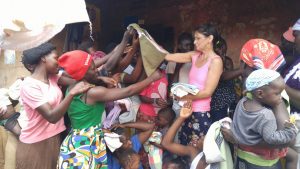 By MARK MAYNARD / Amy For Africa
NJERU, Uganda – Emma Pratt told her mother when she was 12 years old that she wanted to be a missionary.
Her mother had this message for young Emma: "Mom told me God has people chosen for that already."
The understood message? She wasn't one of them.
So that was that and Emma's life in an Amish community and family went on its bumpy course until one day she decided to run away from home. Emma was 19 and she entered a world she'd never experienced. Emma says "my life was a wreck for about 10 years."
But even during the rocky times, and especially when she turned her life back to God, the yearning to be a missionary remained. "So I still had that longing," she said. "It never left me, even in the bad."
Now more than 30 years since she asked her mother about becoming a missionary, Emma Pratt is getting her chance as a short-term missionary with Amy For Africa in Uganda. She will be in Africa for two more weeks and will be leading part of a Vacation Bible School next week at the El-Shaddai Primary and Nursery School with the rest of the team.
Already this week her sewing skills that she learned as a young girl have been passed on to Uganda women who were living in the area referred to as the ghetto of Jinja. Homes are more like broken-down shacks and children wear tattered clothes with usually nothing on their feet. There is nothing sanitary about the area and families often crowd together in tiny shacks not conducive to sleeping but with a roof – barely – over their heads. They are dirty, hungry and searching for hope.
"It's so awesome being here one minute and then the next minute you're crying," she said.
The ghetto was especially hard on Emma, who had never been on a plane before Sunday. These deplorable living conditions underscored what she'd been told about this third world country. Seeing, though, was believing.
"This mission trip is my very first plane ride ever and it had to be an 18-hour flight," she said. "When my feet hit Africa it really hit me that I'm across the ocean from everything I knew. Then, when I saw the ghetto area, my heart broke in two."
Emma is an expert seamstress who has made literally thousands of pillow case dresses, including many who have gone with AFA to Africa over the last few years. They passed out 300 of her dresses on Friday along with many other donated items. She also taught the women how to make an apron with pockets. All of it was done on a treadle sewing machine, Emma's tool of choice, and the ministry that serves in the ghetto called Silent Whispers will soon have seven more of these treadle sewing machines because of donations from AFA supporters who followed Facebook on Thursday.
The treadle sewing machine goes back almost to the beginning of the technology, and its history is the history of the sewing machine itself. A treadle sewing machine is one that is powered mechanically by a foot pedal that is pushed back and forth by the operator's foot.
As a young girl in her Amish family, Emma became proficient with the treadle sewing machine and was able to show the women how best to use it.
"Alice (one of the Ugandans) is really catching on quickly and she's truly going to be a blessing to those people," Emma said. "The ladies were excited sitting around me. They were giggling."
Emma's shy personality came bubbling out when teaching the women about sewing, said AFA namesake Amy Compston. "Emma is doing so good," Amy said. "The ladies love her. She's such a blessing. God has put together the perfect team for this trip."
When Emma looks back over her life, she knew missions was going to be part of it.
"When I came back to Christ, he started to open doors in my life," she said. "But I never thought it (a mission trip) would be for sewing, using skills from my childhood."
Emma, who lives in Coal Grove, Ohio, with her husband, and attends church in nearby Huntington, W.Va., said she and her mother started getting close again about 14 years ago. This time around Mom encouraged her to take the mission trip and even considered going with the team, Emma said. Most of her immediate family has welcomed her back although she said some uncles don't like to be seen with her. The opportunity presented her through Amy For Africa to be a missionary, even if only for two weeks, isn't lost on her.
"Words aren't enough to describe AFA and everything they do," she said. "Amy does an amazing job of preparing you for the trip but some of it you have to see for yourself. I'm so thankful they allowed me to come along with them. God has used this ministry to do great things and being even a small part of it like I am humbles me. Chris (Compston), Amy, Jarek (Compston) and Reagan (Evans) – they've all been so good to me. I'm excited about what the next two weeks will bring."
Emma also was thankful that her husband, Dave, had a health turnaround that allowed her to take the trip.
"God took care of everything," she said. "What He puts on your heart can never be taken away."