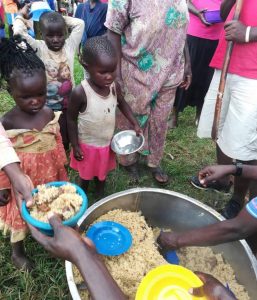 ASHLAND, Ky. – We serve a great big God.
Even while the coronavirus rages, the LORD has continued to meet the needs for Amy For Africa and the people being served in Uganda.
During these unprecedented times here are a few examples of how God has supernaturally provided:
Because of an abundance harvest from the AFA farm, the need for a 20-foot container became apparent. And we needed it quickly so the extra food wouldn't spoil. In about a week, the LORD has given us the $2,500 and the $200 for transport that was needed.
Ask and you shall receive.
–Chris Long, a longtime friend and supporter of AFA, put together a virtual 5K and the organization realized $2,000 from that event.
–An impromptu jewelry sale, with items given to AFA through friends and supporters, provided $825 to the organization.
–AFA was able to give Pastor Blazio enough food to feed more than 200 families for a month. That brings our total to more than 500 families that AFA has provided with enough food for a month since COVID-19 started.
"Our God is great and He provides for all needs," said Amy Compston. "We are so thankful that we serve a God who listens to our needs and takes care of them. He stirs hearts to give and shows himself faithful every single time."
Prayer needs
AFA has an outstanding construction bill for $10,472, a little less than half of the $23,000, that is now due. We are again trusting in God to provide and have faith that will happen. Pray with us to that end.
While Amy is ready, willing and eager to return to Uganda, the country has not opened its borders yet. "His time, not ours," she said.
COVID in Uganda
The situation with the COVID-19 in Uganda has not changed with no deaths reported. Staff and students of the Amy For Africa school are safe and secure but all schools remain closed. Teachers are continuing to deliver homework packets to students and making home visits. The hope is that schools will reopen in August.
Threads of Hope
The Threads of Hope sewing clinic will be reopening this week, according to Godfrey, our country partner. He has also been deliver food for families in the ghetto area when possible because they have not been able to have the Saturday morning feeds and Bible study because of COVID.