ASHLAND, Ky. – What a blessing to watch God work! He is unstoppable.
Amy For Africa and our supporters have been witness to that great work in Uganda as a school building project that started in October 2019 is beginning to bloom into existence on schedule despite a worldwide pandemic.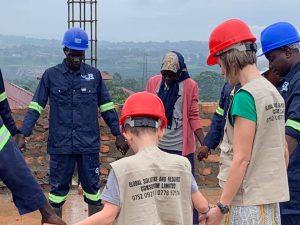 The walls for the Amy For Africa Christian Academy are going up and the roof comes next! There is much to celebrate as God masterfully crafts his school in the middle of the craziest year any of us can ever remember with the COVID-19 virus. Watching God stirs the hearts of so many supporters has shown us that He is able.
One of our next big tasks will be to pay for 76 doors and 102 windows. A door completely installed is $260.03 and a window completely installed is $209.11 Several of you have already purchased one or both. We are BELIEVING HIM for the rest. If you feel led to give toward windows or doors, here's how.
You can GIVE ONLINE HERE or send a donation to:
Amy For Africa
816 23rd Street
Ashland KY 41101