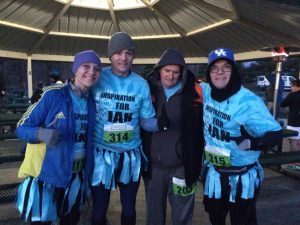 WEST LAFAYETTE, Ind. (AFA) – In weather better suited for dog-sledding, runners representing Inspiration For Ian turned in impressive performances Saturday in the Circular Logic Relay Marathon, Marathon and 8-hour Endurance Run.
The runners, who all had run for Amy For Africa in the past as well, faced brutal 18-degree temperatures at the start of the race and it had warmed up to only 35 by the end of the sunny day.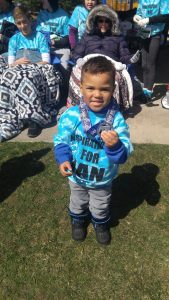 Amy and Chris Compston and Neil Johnson competed in the 8-Hour Endurance Run with Amy running 46 miles to finish first overall among all female runners and fourth overall. Johnson logged in 40 miles and Chris Compston had 34 miles.
Chris Long, who has run more than 100 5Ks in the Ashland, Ky., area, completed his first marathon in 7 hours and 7 minutes. Chris's wife Paula and daughter Karissa ran the final mile with him.
Four marathon relay teams with 21 total runners representing Inspiration for Ian also fared well in the competition. The adult team, captained by Amanda Wesolowski, pushed Ian in a running stroller for all 26.2 miles. Amanda is Ian's mother.
A little kids relay team was captained by 7-year-old Jarek Compston and there were two teen relay teams, one captained by Ian's sister Reagan, and the other by his cousin, Skylar Compston, whose team was first among all the Ian relay teams.
A total of 277 runners competed on the bone-chilling day with 25, nearly 10 percent, coming to run for Inspiration for Ian, which raised $7,160 to help four children dealing with unusual and catastrophic diseases or ailments.
"I'm so thankful for all these amazing runners and everybody who gave us donations online," said Amanda Wesolowski, who organized the fundraiser and is the director for Inspiration for Ian. "We've seen God at work with everybody that made any kind of contribution. He has been so faithful in my life. People were there to help me when I needed it and this is a way for me to give back."
Ian, who is almost 3 years old, was diagnosed with a rare genetic disorder called Bartter syndrome that currently has no cure. The disorder is the failure of one of the proteins in the kidney to properly control how much chloride (salt) is being put in the urine.
Caring for Ian is a fulltime job for Wesolowski, who is also a single mother. In 2015 she left her job at Southern Ohio Medical Center to dedicate all her time to caring for Ian and her 13-year-old daughter Reagan.
She often leans on faith and family to get through the trials.
Friends and family members who dedicated training and race day for the Ian for Inspiration purpose brought tears to her eyes. "All these people, they're so great," she said. "There's no way I can thank them for their sacrifice."
Inspiration For Ian was developed not to benefit Amanda or Ian but others who are dealing with sicknesses where sometimes there seems no light.
"We want to be a blessing to others," she said.
Amy Compston, the co-founder of the Amy For Africa mission, has participated in distance runs, fundraisers and sometimes helps care for her nephew. Compston said she enjoys being part of something that helps so many others.
"I know what my sister has been through in caring for Ian and watch how God provides so sweetly for their family," she said. "It has been a joy to watch God work in their lives and I love being part of Inspiration for Ian's running team because it is done for nothing more than the love of helping others. It makes my heart smile."