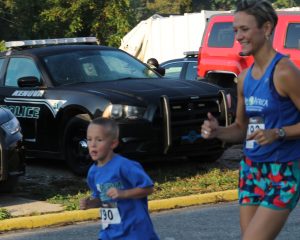 KENOVA Jarek Compston kept his little legs pumping even while complaining to his marathon-running mother almost from the start about the race being so long.
But the smallest and youngest runner — Jarek is only 5 years old — made the biggest splash in The Daily Independent's inaugural Mission: Education 10K race.
Everybody was looking out for him and cheering for him on the course except for his running "rival" Chris Long who taunted him after about the two-mile mark.
"Your mommy's not going to help you now boy," he yelled from behind as the runners hit a slight incline on the mostly flat course. "Is your momma going to carry you?"
Jarek heard the message and found another gear. He finished in one hour and 20 minutes, about five to 10 minutes more than what his mother was pacing for him.
"He started getting weak about mile 3," Amy Compston said. "That's about when we passed Chris Long. Chris was following him from 100 yards back. He say 'I'm going to get you little boy!'''
The 55-year-old Long was running with his wife, Paula, who he said surprised her.
"Jarek passed me on the 3-mile turnaround and my wife was right there with them," he said. "I thought I was going to get a little break waiting for her."
Jarek, whose mother and father are not only runners but also short-term missionaries with the Amy For Africa organization, ran not only with purpose but for a purpose.
Jarek's goal was to raise money for Bibles written in Lugandan, the language used where the organization is working to plant a school in the Jinja area of Uganda, and used his first 10K experience to do it.
AFA began a sponsorship campaign a week before the race for 100 Bibles — they can be purchased for $10.50 apiece in Uganda.
By midweek, they had surpassed 100 Bibles and reset the goal for 200 with Jarek at the heart of the campaign. The number was approaching 180 with other runners handing him donations after he ran. The eventual number was 336 — 14 cases with 24 Bibles per case — with more than $3,000 raised by Jarek's challenge that he would run the 10K. AFA worked with the Bibles From Him organization's Katie Hostetter.
Jarek didn't disappoint on race day under cool blue skies as one of 44 runners who participated in the 10K.
"Watching how hard he tried made me proud," said his father, Chris Compston. "What's so great is it isn't about him. He was doing it for other people."
Jarek asked his mothers how many Bibles his sponsorship had gained on Friday and she told him it was 160 (at the time).
"When Amy told him that he said, 'It's a miracle' and that itself is pretty inspiring," said his father.
Both Amy and Chris thanked running friend Chris Long for being a supporter of the effort by playing the "villain role."
"He was such a good sport, maybe even handing over the win to Jarek," Amy said. "We couldn't ask for a more loyal AFA runner."
Long has participated in more than 100 5Ks and most of them he has represented the AFA organization by wearing their t-shirts. He wore a white UK t-shirt on race day.
"It hurt my heart to see him struggle the last couple of miles," Long said. "I could tell he was struggling about the four-mile mark."
Long said somebody had to "play the bad guy" in the race.
"They got to me a little bit when all those AFA cronies came after me on Facebook," he said.
Jarek impressed him. "I like the way he's using the sport his family loves to support God and buy these Bibles."
Long purchased a trophy for Jarek with Bibles on the top to present him after the 10K. The plaque said to Jarek Compston Lugandan Bible 10K for 100 Bibles.
"I guess I'll have to get another one that says 300," he said.