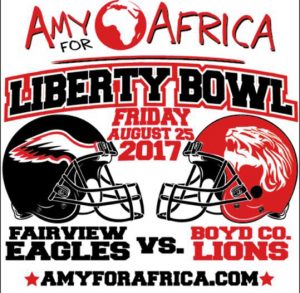 CANNONSBURG, Ky. – When Amy For Africa gets involved in something, they like to go big.
On Friday night, for the first time in the organization's five-year history, AFA will be playing host as a sponsor to a high school football game between Fairview and Boyd County in Cannonsburg at 7:30.
The inaugural Amy For Africa Liberty Bowl is a partnership with AFA and Liberty Baptist Church in Cannonsburg along with the two schools.
The winning team will receive a massive trophy made out of oak that is carved in the shape of Africa by Casey Hughes, a former Boyd County High School player. Casey also carved out seven individual awards that will be given to players following the game including Best Offensive, Best Defensive and Outstanding Player for both teams and a Most Valuable Player award.
On Wednesday night at Boyd County High School, AFA and Liberty Baptist Church will have a spaghetti dinner for both teams, bands and cheerleaders and Amy Compston will share her testimony afterward.
Players and coaches will receive AFA/Liberty Bowl t-shirts and each school receives a donation from AFA for allowing us to be the game sponsor.
"We praise the Lord for open doors and that now includes a high school football game," Compston said. "We are so thankful to sponsor with Liberty and Pastor Dicky Tiller, who has been such a great supporter of AFA from the start."
WLGC 105.7-FM is doing a live remove from the football field from 4:30 to 6:30 p.m.
Partnering together
Partner with churches like Liberty Baptist Church has helped AFA be a part of building and funding six Christian schools in Moyo, Uganda and currently with the El-Shaddai Primary and Nursery School – the first fully operational AFA school – near Jinja in Uganda.
Compston recently returned from a one-month mission visit.
"It was a beautiful experience and I learned a lot from living with them for an extended time," she said. "We are witnessing a transformation in that community as God's word is being taught and preached."
The students at the El-Shaddai school are among the brightest in Uganda.
"We have 50 students and 10 percent of them scored perfect on their state testing," she said. "All of them passed but 10 percent didn't miss a question."
The teachers in the school are all Christian and trained in Uganda colleges. The plan is to add another grade after the first of the year as the school grows to 70 students.
But AFA isn't just about Uganda. The organization speaks at churches, jails, recovery centers, civic clubs and Compston also works in the mentoring program at the federal prison in Summit.
She recently spoke in front of Gov. Matt Bevin and other legislators during the ceremonial signing of an opioid bill that became law in the spring.
State Rep. Dan Bentley, R-Russell, has been an ardent supporter of AFA.