NJERU, Uganda – Construction on the first phase of the Amy For Africa Christian Academy is ahead of schedule, according to the project manager.
GSR Construction Project Manager Ronald Ssekamate said work on the school is about "a month and two weeks" further along than anticipated during a Facebook Live interview with Amy For Africa co-founder Amy Compston on Dec. 14.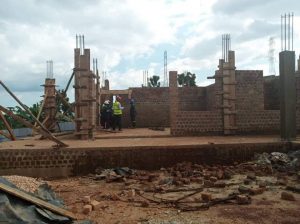 "It's overwhelming to see what God is doing here," Compston said. "It's a beautiful sight to behold; there are walls going up everywhere. It's just the glory of God all over the place."
This phase of the AFA Christian Academy is on schedule to be completed by January 2021 with approximately 200 students taking classes at the new site. Compston went door-to-door over four days visiting the current AFA Christian Academy students and their families last week.
She also had meetings with the project managers about next steps for the construction. The foundation is completed and the ground floor is "95 percent done after which we will do the suspended slab, which is the first floor," Ssekamate said.
Workers will be on site for another week until Christmas and then return on Jan. 2 to continue the construction, he said.
"It brings me to tears to see what God is doing," Compston said. "People are working endlessly and tirelessly and it's a beautiful sight."
With sounds of the work being done in the background, Compston tried to describe what she was seeing with her own eyes while standing in the construction zone.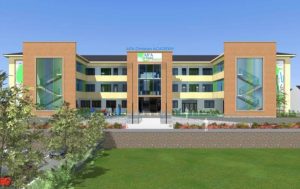 "Cement is being mixed, concrete is being mixed … it's so amazing, so breathtaking," she said. "To think the next time I come back it will probably be the whole school (built). Glory to God!"
The AFA Christian Academy will be in session at the current site near the new school beginning in January. Staff and students are being witness to the construction of the school. Compston said the parents and students were so excited about the AFA Christian Academy, which offers students a high quality education and no tuition.
Ssekamate, who is a Christian, has marveled at how many are involved in building the school through donations in the United States. "Thanks so much for you giving," he said. "It's doing a tremendous job."
Compston claimed a verse in the Bible: "Isaiah 35 said this was going to burst forth and we are believing him to fulfill His word."
Construction on the school began the first week of October.