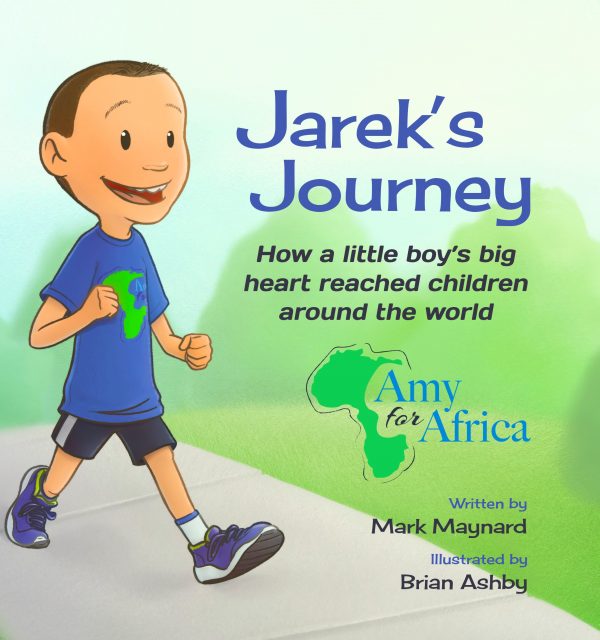 ASHLAND, Ky. – Jarek Compston's true story of running a half marathon at the age of 6 to raise funds to transport Christmas gifts to children in Uganda is now a children's book.
Jarek's Journey is a 20-page fully illustrated children's book that tells the simple story of how a little boy can make a big difference in God's world.
"It's a beautiful story, so perfectly written and illustrated," said Amy Compston, Jarek's mother and a co-founder of the Amy For Africa mission. "We want God to use this book in mighty ways."
Mark Maynard, co-founder of AFA, wrote Jarek's Journey and Brian Ashby did the illustration work.
"The first time Chris (Amy's husband) read the book, he cried," Amy said. "It's such a sweet story and a true one. To see what God can do with a little boy is a great example of how anyone can be used."
All the proceeds from Jarek's Journey, which sells for $25 and can be purchased by clicking here, will go toward the new El-Shaddai Nursery and Primary School in Uganda. Designs for the school, which has a $1.1 million price tag, are already in place and AFA has put down the first 20 percent of the $522,000 first phase of construction.
"We have faith that God has already taken care of all the details," Compston said. "He has been faithful to this ministry for six years and now we are going to be faithful to Him."
The school construction will be 39,000 square feet – or about $28 per square foot.
Jarek, who turned 8 in January, conquered the Marshall half marathon in November 2017 and raised more than $11,000 for the Amy For Africa ministry. He later raised $17,000 in a half marathon the following spring in Indianapolis.
Jarek not only competed in the half marathon he finished in 2 hours, 17 minutes and 44 seconds – the second-fastest time ever recorded in the U.S. for a 6-year-old runner.
Jarek told his mother and father in August 2017 while riding home from churh that he could run a half marathon and they decided to do it as a fundraiser for Amy For Africa.
His mother, a seasoned marathon runner who counts four Boston Marathons among the six world marathons she has run, trained Jarek for 2 ½ months for his longest run to date. He had previously participated in several 5Ks and 10Ks, but the 13.1 miles was the most he'd done in practice or in a race. The strategy was to run and walk the course. But it was mostly run.
The book tells Jarek's story in child-like phrases. You will enjoy reading as Jarek "runs, runs and runs some more" throughout the pages.
"It's a page-turner and a tear-jerker," his mother said. "We are so proud of Jarek."
Little Jarek has since been on two mission trips to Uganda with his mother and father. He is beloved by many friends there.
Books can be purchased online at amyforafrica.com (put Jarek's Journey in the message line) or by mail at AFA, 816 23rd Street, Ashland KY 41101. One book is $25 or $20 for two or more.
Related stories:
AFA begins Jarek's Christmas Journey
6-year-old conquers Marshall Half Marathon, doubles fundraising goal